Fort Wayne Area Heated Floors
Finding the System that's Best for You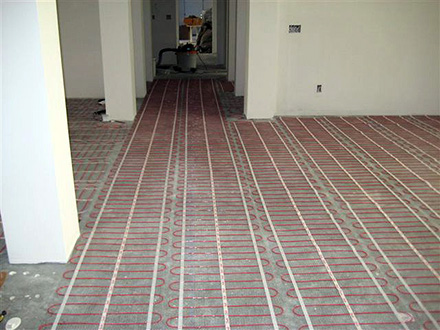 For years Warmzone has been offering heated floor solutions for homeowners in Fort Wayne and the Indiana area. As a leading provider of radiant heat solutions, Warmzone carries one of the largest selections of the industry's most proven systems. Fort Wayne homeowners can be assured of finding the ideal floor heating system for their needs because Warmzone isn't locked into only offering one or two radiant heating options. Virtually any type of floor can be heated by one of Warmzone's trusted systems.
Most floors are heated with thin radiant heat cable like ComfortTile. ComfortTile features cable that is only about 1/8-inch in diameter and is available on spools or pre-spaced in mats. The mats feature cable that is pre-spaced on a flexible mat with an adhesive backing. The mat can be rolled out on the subfloor and secured for quick, easy installation.
Why Install Radiant Heated Floors?
Radiant heat not only offers luxurious comfort, but a variety of other benefits as well. Electric floor heating systems operate silently and are maintenance free. There's no need to clean vents and change filters with a radiant heat system. And with conventional forced-air heating systems hot air is blown from the registers and immediately rises to the top of the room. When the air cools it drops back down to the lower levels of the room.
Unfortunately for children who spend much of their time playing on the floor, the temperature is not as comfortable as it is at the higher levels of the room. This is called stratification. With radiant heat, the room warms from the floor up, warming objects and people in an efficient and comfortable manner.
Warmzone offers a large selection of the industry's most trusted and proven floor heating systems. From thin floor heating cable systems to low-voltage polymer heating elements and even paper-thin "film" heating elements, Warmzone offers customers solutions for every type of floor heating application.
Some Industry Leading Floor Heating Systems Include:
ComfortTile Floor Heat
The ComfortTile floor heating system is the most popular and commonly installed floor heating system. The heating cable is just ⅛-inch in diameter and is available off spools for installing in custom shaped areas, or pre-spaced on a an adhesive-backed flexible mesh. The mat can be conveniently rolled out for quick installations. The mats heat an area 24-inches wide and are available in a variety of lengths.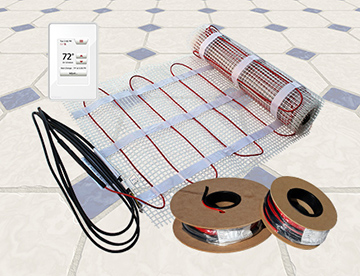 The ComfortTile floor heating system is a proven industry leader and Warmzone's most popular floor heating solution. The thin floor heating cable is just ⅛-inch in diameter so there is very little floor buildup. While the versatile CT heat cable is used to heat a variety of floors, it is especially effective for heating tile, marble and slate floors.
ComfortTile floor warming systems have been warming floors in the Fort Wayne area for well over a decade, and comes with a 25-year warranty. Available off the spool or pre-spaced on a durable adhesive-backed flexible mesh mat, ComfortTile is easy to install. The floor heating mats heat an area 24-inches wide and can be rolled out for quick, easy installation. The CT mats are pre-terminated for use with 120 and 240 volts, and are available in a variety of lengths.
In-Slab Floor Heat
In-Slab floor heating systems feature rugged single-point connection heat cable designed for installation in concrete slabs. Designed to produce 10-15 watts per square foot, In-Slab cable is efficient and also waterproof, so it can be safely used in both wet and dry applications.
In-Slab heat cable is the premier radiant floor heating solution for concrete slab applications in both custom residential and commercial radiant heat projects. Concrete slabs retain warmth for long periods of time; providing warmth well after the heating system has been turned off. This makes the In-Slab floor heating system a very efficient and affordable option for heating basement floors. The cable carries a 10-year warranty.
Prodeso Floor Heating Membrane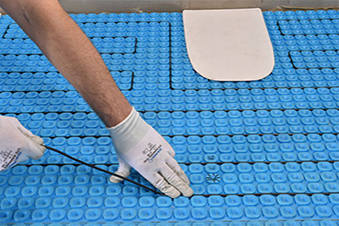 The Prodeso® floor heating system features a polypropylene uncoupling and waterproofing membrane combined with ComfortTile heat cable. The membrane is only ¼-inch (5.5mm) in height and has square shaped reliefs with rounded corners that form channels for the heat cable. This type of system is especially beneficial when installing radiant heat in difficult subfloors without movement or expansion joints in the screed.
The membrane is placed over the subfloor and the heat cable is then added. The finished surface is then laid.
The membrane can be used for all types of floors, and is safe under all conditions. It even waterproofs the substrate in the case of overlaying on cracked or imperfectly cured floors with a risk of vapor stress. It is designed to ensure maximum flexibility, protection and safety inside and outside the home.
FilmHeat and RetroHeat Floor Heating Systems
The paper thin heating element, that is only 0.16-inch thick, can be used to effectively heat laminate floors. The heating panels are cut to their proper length on site and then secured to the subfloor. Electrical connections are then made and the laminate floor is installed directly over the panels.
This system is also used to heat existing floors. Known as the RetroHeat floor heating system, the heating panels are stapled up between the floor joists and then Batt insulation is applied to direct the heat up to the floor. This is an affordable way to add radiant heat to your existing floors. The floor heating system carries a 10-year warranty.
For more information on radiant floor heating systems, call 888.488.9276 and speak to a friendly radiant heat expert and learn what floor heating option is best for you.