Fort Wayne's Premier Radiant Heated Driveways, Floors & Roof Deicing
Industry Leading Systems ● Local Installer Network ● Free Installation Training ● Unmatched Customer Service
For years Warmzone has been providing Fort Wayne and surrounding areas in Indiana with industry leading heated driveways and snow melting systems. Warmzone offers the flexibility of installing radiant heat in virtually any type of heated driveway, sidewalk, ramp, or porch, etc. The systems can be easily customized. Regardless of the layout or your budget constraints, our radiant heat experts will work with you to create the most effective and efficient radiant snow melting system for your specific snowmelt needs.
About Us
Warmzone has been providing Fort Wayne area residents with snow melting, roof deicing, and floor heating solutions for well over a decade. Our industry leading radiant heat systems are constantly being installed in residential and commercial applications throughout Northern America. From large government, industrial and commercial installations to small, custom radiant heat projects for the home Warmzone has the experience and support services that customers can rely on.

As one of the most trusted radiant heat providers in the nation, Warmzone stands beside its customers throughout the installation process. Our goal is to not only provide Indiana residents with the best products, but to work with your installer to ensure that your system is installed correctly and performing to your satisfaction. We strive to offer the largest selection of the industry's most proven system components together with unparalleled customer support services.
Our professional design team features seasoned veterans who have designed systems ranging from heated runaway truck ramps and heated bridges to commercial roofs, custom driveways and bathroom floors. No job is too big or too small. Warmzone professionals carefully evaluate and design each radiant heat system. A variety of factors are taken into account to ensure that your system performs as intended. We consider all the factors that are unique to your project, including location, average winter temperatures and snowfall, available power, budget, and so on. Prior to any heat cable being installed you'll know the proper layout and materials, load calculations, breaker sizes, number of breakers, and system performance expectations. This ultimately saves you time and money in the long run.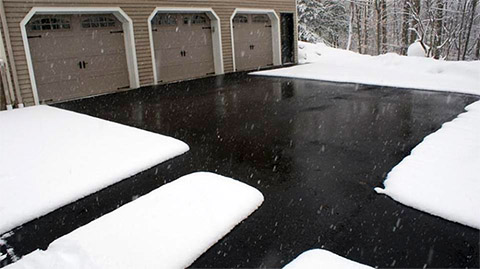 Free installation support from electrical experts and system designers is also included. Although we have a network of experienced installers in the Fort Wayne area who we can recommend, we also offer free installation training for those who already have an installer in mind. When it comes to quality components and premier customer service, it's tough to beat Warmzone.
Fort Wayne Roof Deicing Systems
Roof heating systems are a valuable addition for homes in cold weather climates. While Fort Wayne's annual snowfall of 34 inches doesn't pose a weight load threat to Indiana homes, it's still more than enough snow to cause problems with ice dams, the number one culprit of roof and water damage. Warmzone offers some of the most efficient and reliable solutions for preventing ice dams and keeping gutters and downspouts clear of ice to facilitate runoff. For more information, visit our Roof Deicing web page or call 888.488.9276.
Radiant Heated Floors
Add luxurious comfort to your home with radiant floor heat. Heated floors not only provide outstanding comfort, but the systems are remarkably efficient. There is virtually no heat loss with radiant heating systems, and each zone, or room, can be controlled by its own thermostat, further enhancing the efficiency of the system.
Warmzone offers one of the largest selections of radiant floor heating systems available. And with each system providing its own unique set of benefits and advantages, homeowners are sure to find the ideal system for heating their floors. Call and talk to a floor heating expert to learn what options are best for you. Call 888.488.9276 today to learn about the many floor heating options that are available.
Warmzone snow melting systems are trusted industry leaders, and our customer services are unmatched. As seasoned radiant heat experts we can design the best system for you and recommend an experienced installer in your area. We'll work closely with you to ensure that you're satisfied with your system and service. Call today to receive a free quote or to learn more - 888.488.9276.